Music
College of Liberal Arts
---
Studying music allows you to explore and understand its impact in today's culturally diverse world.
As a music major, you are encouraged to think creatively as you study a broad curriculum, which includes applied study, composition, conducting, ethnomusicology, jazz, music education, music history, musicianship, performance, piano skills, sound design and theory.
Composition
By studying composition, you'll expand your skill set through a variety of hands-on electives, including orchestration, sound design, jazz theory, counterpoint, conducting and more. You'll also get to hear your compositions as our performing ensembles hold regular reading and recording sessions of our student's compositions.  
 
Explore the Composition Focus Area
Jazz
Through jazz, you'll get the opportunity to refine your improv and arranging chops, as well as perform and compose your own charts. You'll also collaborate with visiting guest artists, participate in clinics and spend time in the recording studio.
Music Education
With music education, you will learn skills to help you teach high school, middle school or elementary school music programs. By taking state approved electives, you will be able to enter directly into a teaching credential program, bypassing some additional testing and requirements.
Explore the Music Education Focus Area 
Ethnomusicology
Studying ethnomusicology allows you the opportunity to examine musical cultures from around the world. You will learn about instrumentation, aesthetic principles, musical style and performance practices. This curriculum also explores commodification, identity, ritual, gender and political empowerment. 
Explore the Ethnomusicology focus area
Music History 
As a performer, understand the journey of music-making through time gives you invaluable context and all you'll need to play each piece authentically, in the correct style. In addition, you'll receive training in research and writing normally found at the graduate level. 
 
Explore Music History
Music Performance
Focusing on performance means you will deepen your artistry and further develop your technique, tone and rhythmic accuracy with the mentorship of a professional musician. There are many performing ensembles to audition for as well as masterclasses, recitals and even a solo competition.   
 
Explore Music Performance 
Music Technology
In the classroom and music studio, you'll learn everything from acoustics and microphones to setting up a Digital Audio Workstation and configuring a MIDI studio setup. At the completion of this curriculum, you'll use these new skills to present a collaborative, technology-based performance.   
 
Explore Music Technology
About the Program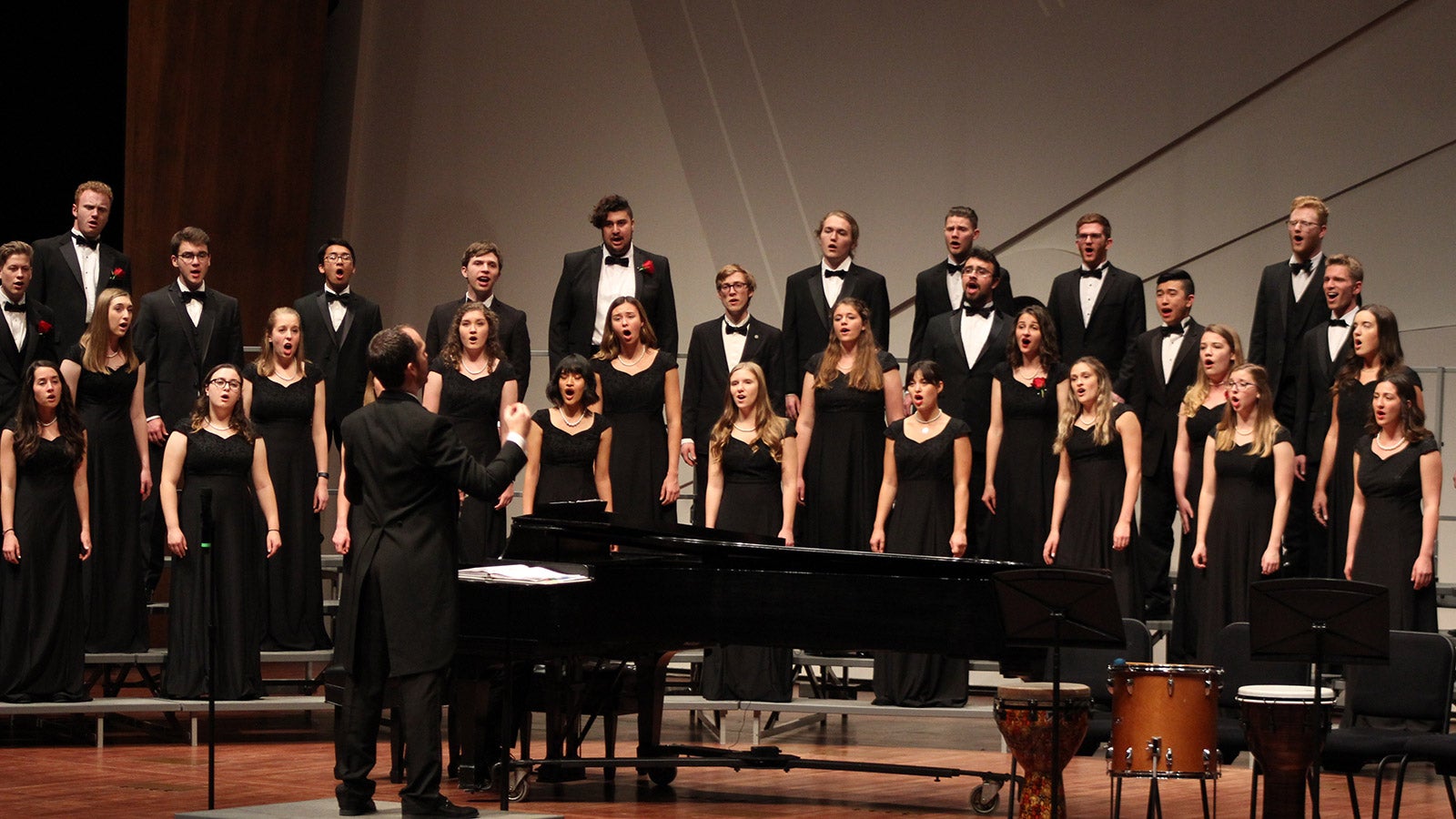 The music program offers a rigorous grounding in fundamentals, as well as the opportunity for musical and intellectual exploration.
The program combines the ancient and the modern and pairs traditional music disciplines with technology and popular and world music. You will be able to pursue your own musical path and develop the discipline, skills and knowledge needed to play a role in the musical world, whether it be in performance, composition, technology, education and more. Cal Poly is accredited by the National Association of Schools of Music.
Learn by Doing
With more than a dozen student performances a year in the beautiful Performing Arts Center, there are many opportunities for learning in a professional environment on campus and around California. Beyond performance, you can learn how to present and teach music, compose your own film scores, produce albums and more.
Perform for a Crowd
Our Graduates
The skills, discipline and creativity you learn can be applied to many career paths. Graduates are prepared to begin specialized study at the graduate level or to enter a wide variety of professional careers, including teaching, performing, composing and producing.