Industrial Technology and Packaging
Orfalea College of Business
---
Industrial technology professionals use engineering and manufacturing technology to ensure products make it efficiently from the production line to consumers' hands. Packaging professionals develop functional and cost-effective packaging for products.
The curriculum combines a foundational business course work with a more specialized concentration in either industrial technology or packaging.
Access to the following labs allow you to manufacture products, participate in games and simulations, design and test packaging, study materials and more:
Graphic Design Lab
Materials Testing Lab
Packaging Design Lab
Packaging Dynamics Lab
Polymers Processing Lab
Power Systems Lab
Process Improvement Lab
Product Fabrication Lab
Rapid Prototyping Lab
In this major, you are required to choose a concentration in either industrial technology or packaging.
Industrial Technology
The industrial technology concentration allows you to build upon your technology management foundation with skills in operations, supply chain management, quality assurance, materials, automation, commercialization and project management. Within this concentration, you will have the option of choosing an emphasis in product development, supply chain management or process improvement.
More about Industrial Technology
Packaging
Packaging is an interdisciplinary curriculum that blends the study of manufacturing and packaging processes, packaging materials, structural design, graphic communication, marketing, business administration and food science. You will have the opportunity to focus on a number of sectors and engage with corporate partners to practice all aspects of the packaging industry, from research and development to sales.
About the Program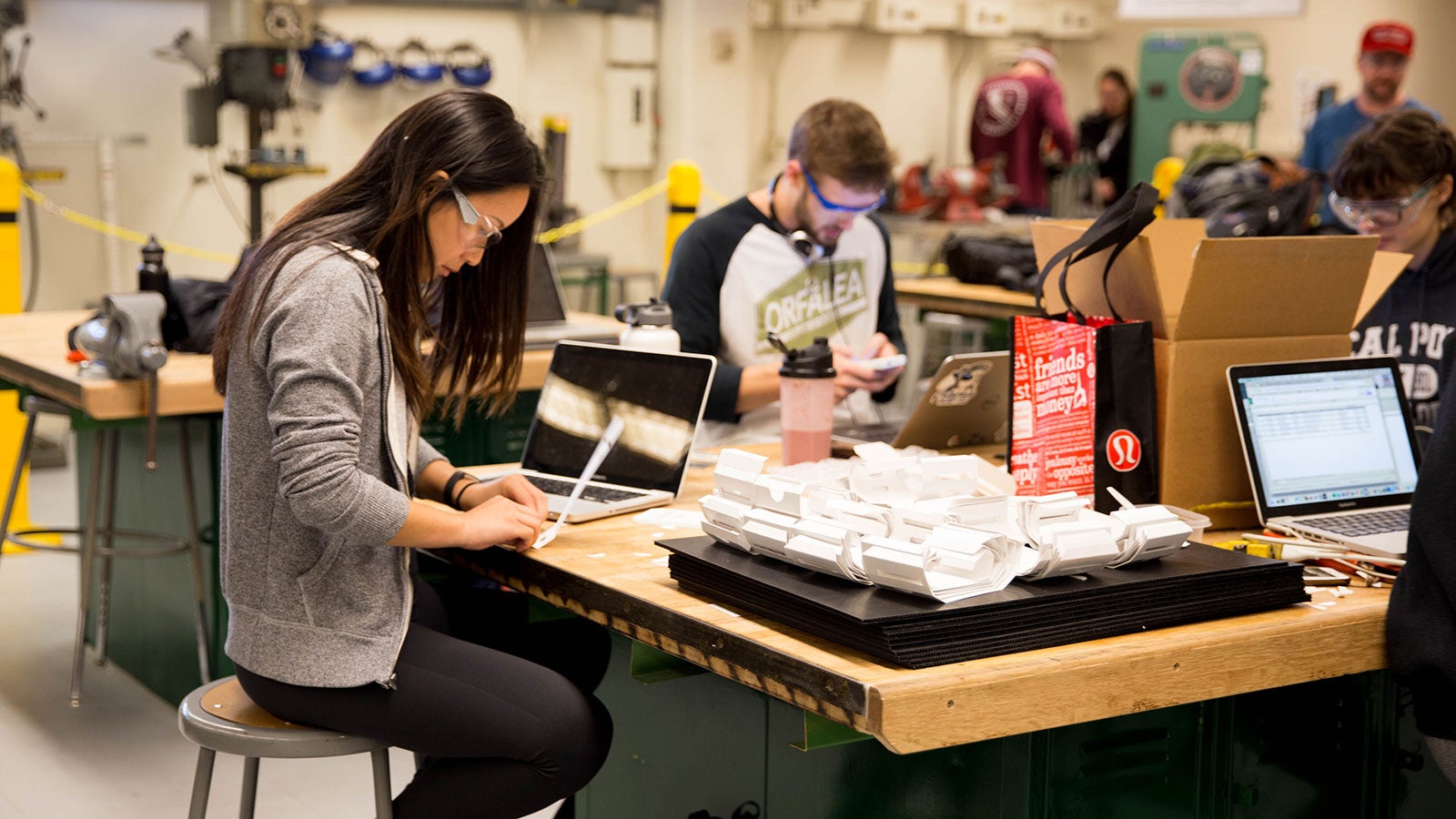 As an industrial technology and packaging (ITP) student, you will learn how to design, produce, and test efficient and sustainable packing.
The program incorporates a broad range of technical/business management skills and knowledge, allowing you to gain practical insight on business operations, manufacturing and service organizations, emerging technologies and much more.
You will choose between a concentration in industrial technology or packaging. In both concentrations, you will be involved in collaborative, project-based classes that help you develop a strong foundation in the science and liberal arts, business and management disciplines, as well as extensive hands-on course work in industrial operations and packaging. The degree program is accredited by the Association to Advance Collegiate Schools of Business (AACSB)as well as by Association of Technology, Management, and Applied Engineering (ATMAE).
Learn by Doing
Our students aren't passive learners. With access to labs and technology that reflect all stages of the production and operation processes, you are able to put your knowledge to use. Whether you're running machinery in the lab, developing a product or presenting work to corporate partners across California, you will learn how each piece of the process fits into the bigger picture and leverage your experiences to improve the intersection between technology, people and organizations.
Our Graduates
The technical prowess and business acumen of our students results in extensive career options.
Some graduates are hired by technology companies like Apple while others take engineering jobs at companies like Boeing. Other major employers include Tesla, Lockheed Martin, Amazon Lab126, Texas Instruments, FedEx, Oracle, PepsiCo, Seagate, Google and Reflex Packaging.