Electrical Engineering
College of Engineering
---
Electrical engineers design, develop and build a wide range of electrical equipment including computers, electronic devices, communication systems, test equipment, electric power networks and more.
San Luis Obispo, California
The electrical engineering curriculum provides a sound theoretical background along with current, practical engineering knowledge. You will gain a basic understanding of electrical engineering along with a foundation of physical science, mathematics, computing and technology.
Opportunities are available for undergraduate and graduate work in many fields of interest, with the following laboratories available for course work and research projects:
Advanced Communications Systems Lab
Antenna Anechoic Chamber Lab
Basic Circuits and Electronics Lab
Capstone Lab
Computational Intelligence Lab
Computer Design Lab
Controls Lab
Digital Systems Design Lab
EE Student Project Lab
Electrical Engineering Technical Support Lab
ElectroMagnetic Compatibility (EMC) Chamber Lab
Embedded Systems Lab
Energy Conversion Lab
General Project Room
Multidisciplinary Projects Lab
Photonics Lab
Polymer Electronics Lab
Power Electronics Lab
Power Senior Project Lab/Remote Tech Group/Electric Power Institute
Research/Projects/ElectroChemical Engineering Lab
RF Microwave Lab
Sustainable Energy Lab
Systems and Communications Lab
The Big "E"
W6BHZ station
While not formal concentrations, you will choose technical electives to gain additional expertise in one or more areas of specialization including computers, electronics, microwaves, power and systems.
Electrical Engineering majors are able to participate in a blended program where you can earn your bachelor's and master's degrees at the same time.
There are two blended programs available to electrical engineering students and requirements are different for each program:
BS in Electrical Engineering and MS in Biomedical Engineering
About the Program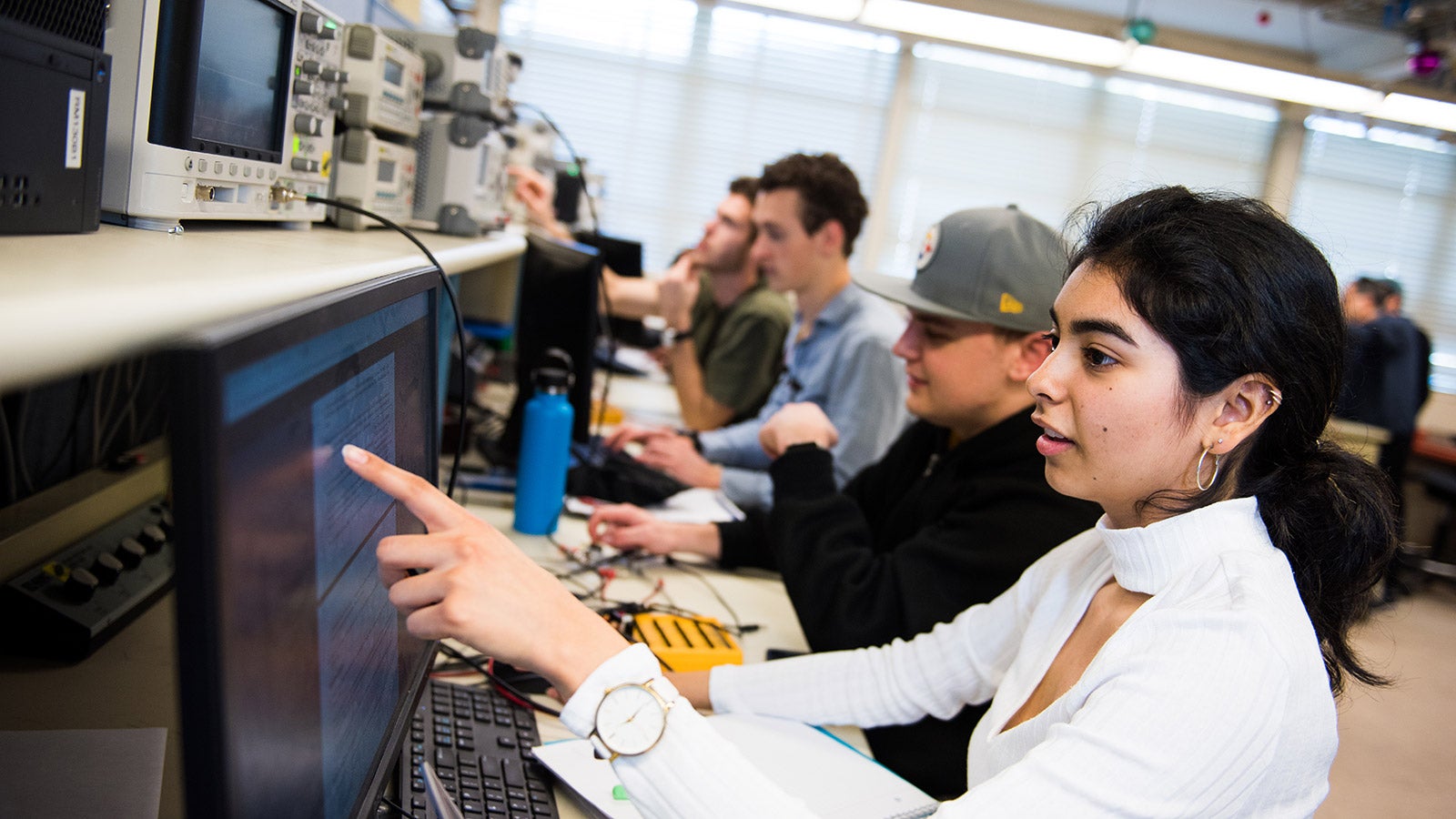 Electrical engineering will teach you the skills needed to design devices that are powered by or produce electricity.
You will immediately begin working in the lab, learning how to design and develop circuits to perform specific functions and to predict how they will behave. Technical electives allow you to gain additional expertise in one or more areas of specialization including electronic devices, computers and systems for communication, controls, information processing and display and system instrumentation. The program is accredited by the Engineering Accreditation Commission of ABET and is the top ranked program in California and second in the nation by U.S. News & World Report.
Learn by Doing
By gaining a knowledge around the design and application of circuits, you will be able to design electrical devices and systems in a wide-range of projects. This could mean developing low-cost, sustainable sources of electrical power or enabling seamless interfaces between humans and machines to meet the future of computing.
Work with a Microgrid
Our Graduates
Electrical engineering graduates work for a variety of industries including electrical components and computer equipment manufacturers, medical and scientific instruments, transportation, communication, computer-related sectors, the federal government, electric utility companies and engineering consulting firms.