Construction Management
College of Architecture and Environmental Design
---
Construction managers play a central role in building and maintaining the infrastructure of this country and in markets around the world, making significant contributions throughout the planning, design, construction and facilities management phases of major projects.
The curriculum of the construction management program is specifically designed to prepare you for the central role you will play in the planning, design, construction and facilities management phases of projects. 
Building on a solid foundation in architecture, engineering, and business, you will also learn various aspects of the field. This includes construction methods and materials, technologies used to manage projects, the varied contracting approaches, the leadership and teamwork skills demanded by the profession and the techniques used to manage budgets, schedules, quality and safety. Our unique, project-based environment explores how these management principles are applied in each of the construction sectors such as commercial building, residential, heavy/civil, industrial and specialty.
 
The main labs offered in the Construction Management Department are Heavy Civil, Fundamentals, Residential, Commercial, Job-Site, and Specialty Contracting, specified in Mechanical or Electrical.
In addition to the department labs, the College of Architecture and Environmental Design provide the following labs:
CAED Plot Center
The facility offers large-format plotting for individual as well as class-based projects.
CAED Shops and the Digital Fabrication Lab (dFab)
This lab hosts a metal shop, wood shop and fabrication lab that include laser cutters, CNC machines and 3D Printers.
CAED Tech Support
The College provides technical support for various CAED computer labs, on-site printing and other computer-related areas.
Concrete Yard
The concrete yard is an experimental assembly and project use area.
Experimental Practices Laboratory
Located in Poly Canyon, this nine-acre outdoor laboratory has been home to large-scale structures designed and built by students since 1964.
Neel Resource Center (NRC)
The Paul & Verla Neel Resource Center (NRC) provides access to architecture and environmental design-related resources including books, periodicals, digital images, working drawings and material samples.
Photo Presentation Facility
The facility allows for a host of needs from document projects and preparing presentations to mounting drawings and digitizing images for web site or other academic needs. The facility also supports the Architecture Department's photography courses.
About the Program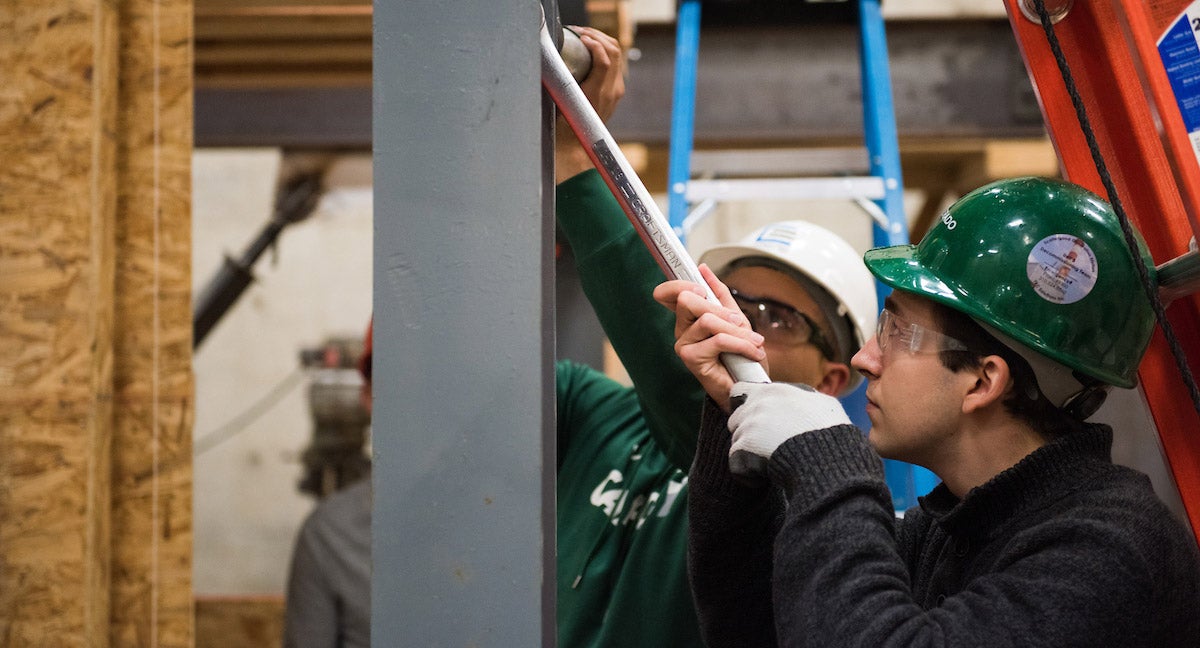 The Construction Management program introduces you to the construction methods and materials, project management techniques and the leadership and teamwork skills demanded by this profession.
The department is nationally accredited and recognized for its outstanding faculty, small class sizes, laboratory-based courses and distinguished Learn by Doing approach to education. The project-based curriculum allows you to learn how to solve problems in the field and coordinate the different trades on site. You will leave Cal Poly ready for the challenges you can expect in the professional world.
Learn by Doing
As a Construction Management student, you are engaged in various levels of hands-on learning, from BIM 3-D modeling to co-op internships at firms around the world. These experiences allow you to gain exposure to the full range of the construction field and help you learn construction finance and methods. You also have opportunities to join professional student organizations and participate in competitions across California and nationally. 
Build Solar Panels Internationally
Our Graduates
Construction Management students are aggressively recruited, with nearly 100% of them finding full-time employment prior to graduation.
Major employers include DPR Construction, McCarthy Building Companies, Sundt, Hensel Phelps, PCL, Webcor, Whiting-Turner and XL Construction. Our graduates have also gone on to master's programs at various institutions.