Biochemistry
Bailey College of Science and Mathematics
---
Humanity's great strides in genetics, medicine and forensics, among many other fields, started with the analysis of the chemical processes taking place inside living cells. Biochemists discover how life works by studying this process at the molecular level.
The biochemistry curriculum includes general, analytical, inorganic, organic, and physical chemistry as well as biochemistry. Courses emphasize laboratory work, especially current techniques and the use of instrumentation. The program provides opportunities for independent research under faculty guidance, including a senior project.
General chemistry is taught in studio classrooms with a uniquely effective combination of lecture and lab. In addition, your courses may contain the following labs:
Advanced Spectroscopy Lab
Biochemistry Lab
Chromatography Lab
Coatings Formulations Lab
Computational Chemistry Lab
Inorganic Synthesis Lab
Nanoscale Imaging and Materials Characterization Lab
Nuclear Magnetic Resonance (NMR) Spectrometer Lab
Organic Synthesis Lab
Polymer Characterization Lab
Polymer Synthesis Lab
Protein Techniques Lab
Quantitative Analysis Lab
A wide variety of undergraduate research opportunities in faculty labs are also available outside of course work or for credit.
Polymers and Coatings Concentration
The polymers and coatings program is the only one of its kind in the Western U.S. and prepares you for graduate study or careers in a wide range of fields including paints and coatings, resins, plastics, adhesives and sealants. The concentration is certified by the American Chemical Society.
More about Polymers and Coatings Concentration
Teaching Track
A flexible chemical education degree option is available if you are interested in a career in K-12 science education.
About the Program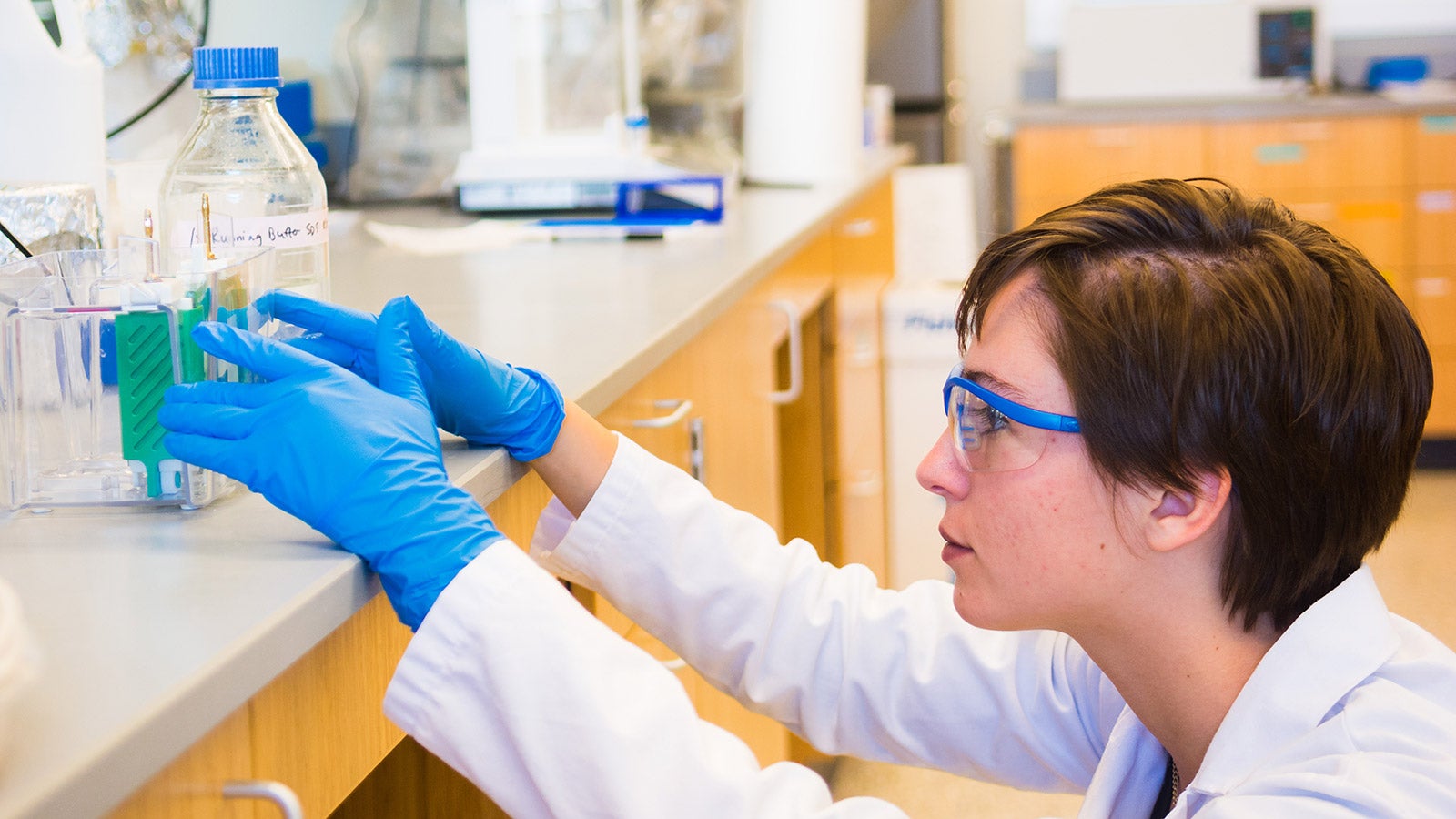 Biochemistry gives you the tools to understand and explore the chemical processes within living organisms.
As an undergraduate, you will have the opportunity to use the latest technologies and work directly with faculty members on real-world research – much of which is funded by grants from the National Science Foundation, the U.S. military or private industry. Through our cooperative education program, you can also work full-time in industry or government for pay or academic credit.
Learn by Doing
Scientific discovery is at the heart of biochemistry. You will study the molecular mechanisms by which cells feed, divide and grow and use this knowledge to form questions and design experiments to answer them. From working with faculty on research developing new medicines to fight diseases such as cancer or investigating gene expression in antibiotic resistant bacteria, you will learn to be a scientist by doing what scientists do.
Dive Into Genetics
Our Graduates
Many of our graduates go on to doctoral programs at prestigious universities throughout California and across the country. Others pursue careers in environmental analysis, the health professions, biotechnology, industrial research and production, pharmacology, toxicology , food science, wine and viticulture, and fermentation.  Because biochemistry is a foundational science, you will have a broad choice of career options with this degree.