Architecture
College of Architecture and Environmental Design
---
Architects plan and design houses, factories, office buildings and other structures as well as restore and conserve existing buildings. They are often involved in site selection, zoning, environmental impact, building codes and ADA considerations as well estimating build costs, materials and time-frame of projects.
As an architecture student, you will spend a lot of time engaged in studio practice. Beginning with learning the basics of design such as form, lighting, composition and morphology, each year will progress into a higher level of detail. Support classes include architecture history, environmental design, structures, material science and industry standards.
CAED Plot Center
The facility offers large-format plotting for individual as well as class-based projects.
CAED Shops and the Digital Fabrication Lab (dFab)
This complex hosts a metal shop, wood shop and fabrication lab that include laser cutters, computer numerical control (CNC) machines and 3D printers.
CAED Tech Support
The college provides technical support for various CAED computer labs, on-site printing and other computer related areas.
CIDS Lab
The Collaborative Integrative-Interdisciplinary Digital-Design (CIDS) Lab provides access to the latest digital technology for the design and instruction of a range of interdisciplinary community projects.
Concrete Yard
The concrete yard is an experimental assembly and project use area.
Experimental Practices Laboratory
Located in Poly Canyon, this nine-acre outdoor laboratory has been home to large-scale structures designed and built by students since 1964.
Material Innovation Lab
The Material Innovation Lab supports upper level courses that focus on new material approaches or applications to architecture.
Neel Resource Center (NRC)
The Paul & Verla Neel Resource Center (NRC) provides access to architecture and environmental design-related resources including books, periodicals, digital images, working drawings and material samples.
Photo Presentation Facility
The facility allows for a host of needs from document projects and preparing presentations to mounting drawings and digitizing images for web site or other academic needs. The facility also supports the Architecture Department's photography courses.
About the Program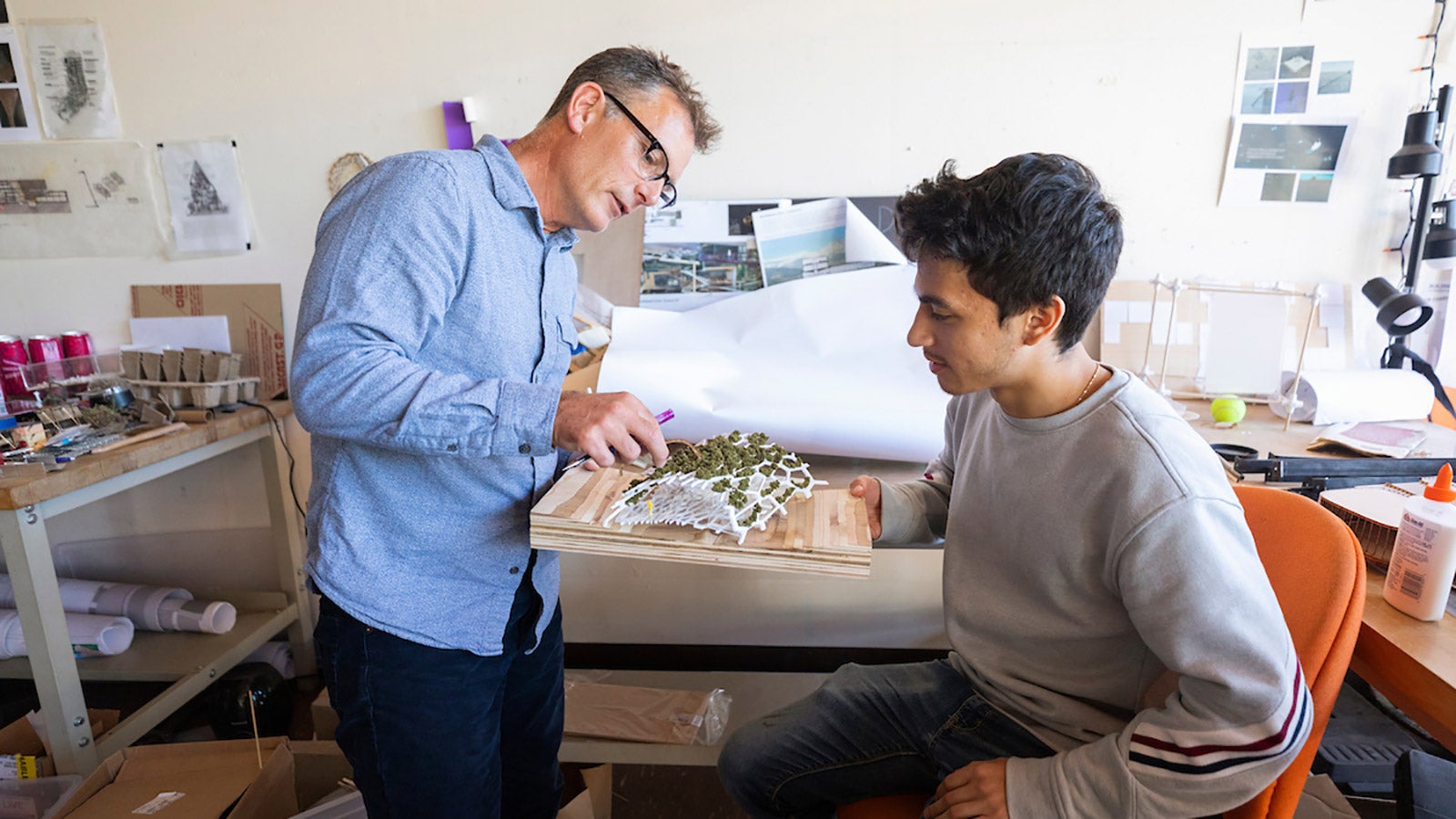 Recognized as one of the top five undergraduate architecture programs in the country, Cal Poly is a known leader in producing highly qualified professionals.
Our low student-to-faculty ratio, opportunities for real-world learning experiences around California, and direct exposure to the other disciplines in the planning, design and construction industry give you a depth of knowledge into the industry.
We encourage our students to be independent thinkers and makers. Guided by a faculty of highly trained professionals, you will develop the design skills and technical expertise that are sought after by the world's top architecture firms. The five-year Bachelor of Architecture degree is accredited by the National Architectural Accreditation Board (NAAB), and prepares you for the Architectural Registration Examination (ARE).
Learn by Doing
The architecture program main focus is hands-on learning. Starting your first quarter, you will participate in studio practice and continue a studio sequence until you graduate. Each year the level of detail in the projects progresses as you understand more about the design process. During your fourth year, you are encouraged to engage the world beyond campus through our metro programs in San Francisco, Los Angeles and Alexandria, VA, through study abroad, or through internships with professional offices. You will spend your final year completing a year-long research and design project that will culminate with a final exhibit to showcase your architectural creativity.
Our Graduates
Our graduates are sought after by the world's top architecture firms.
Although most students move into key roles in architecture firms, others are highly successful in other design fields such as animation, film making, furniture design, graphic design, fashion design, digital fabrication, facility management, community activism or sustainable practices. Regardless of where you land, you will be prepared to imagine and shape a better built environment.