Architectural Engineering
College of Architecture and Environmental Design
---
Architectural engineers focus on the structural engineering of buildings, including the design of the structural and mechanical systems such as lighting, air conditioning, heating and ventilation. Architectural engineers also manage the challenges that arise during the construction process and ensure a building is safe, sustainable, and built on time and on budget.
A degree in architectural engineering begins by learning the fundamentals of architecture and construction management, along with math, physics and general education courses. During your third year, you will transition to the department's signature design labs.
CAED Plot Center
The facility offers large-format plotting for individual as well as class-based projects.
CAED Shops and the Digital Fabrication Lab (dFab)
This complex hosts a metal shop, wood shop and fabrication lab that include laser cutters, computer numerical control (CNC) machines and 3D printers.
CAED Tech Support
The college provides technical support for various computer labs, on-site printing and other computer related areas.
Computer C Lab
The facility was designed and built exclusively for architectural engineering students to meet their specific needs.
Concrete Yard
The concrete yard is an experimental assembly and project use area.
Experimental Practices Laboratory
Located in Poly Canyon, this nine-acre outdoor laboratory has been home to large-scale structures designed and built by students since 1964.
High-Bay Lab
The main experimental facility with classroom space, a tension/compression machine, and areas for research as well as the construction and testing of student projects.
Neel Resource Center (NRC)
The Paul & Verla Neel Resource Center (NRC) provides access to architecture and environmental design-related resources including books, periodicals, digital images, working drawings and material samples.
Photo Presentation Facility
The facility allows for a host of needs from document projects and preparing presentations to mounting drawings and digitizing images for web site or other academic needs. The facility also supports the Architecture Department's photography courses.
Seismic Lab and Shake Table
The facility contains workstations with small-scale test machines, a small shake table, and several testing machines including two new electromechanical testing machines.
Soils Lab
The program maintains and operates three experimental labs and shares a fourth with the construction management program.
The department offers a blended program where you can earn your bachelor's and master's degrees at the same time.
If you are interested in this program, you may apply after completing all 300 level architectural engineering courses and 180 units. Contact the Architectural Engineering Department for additional information.
About the Program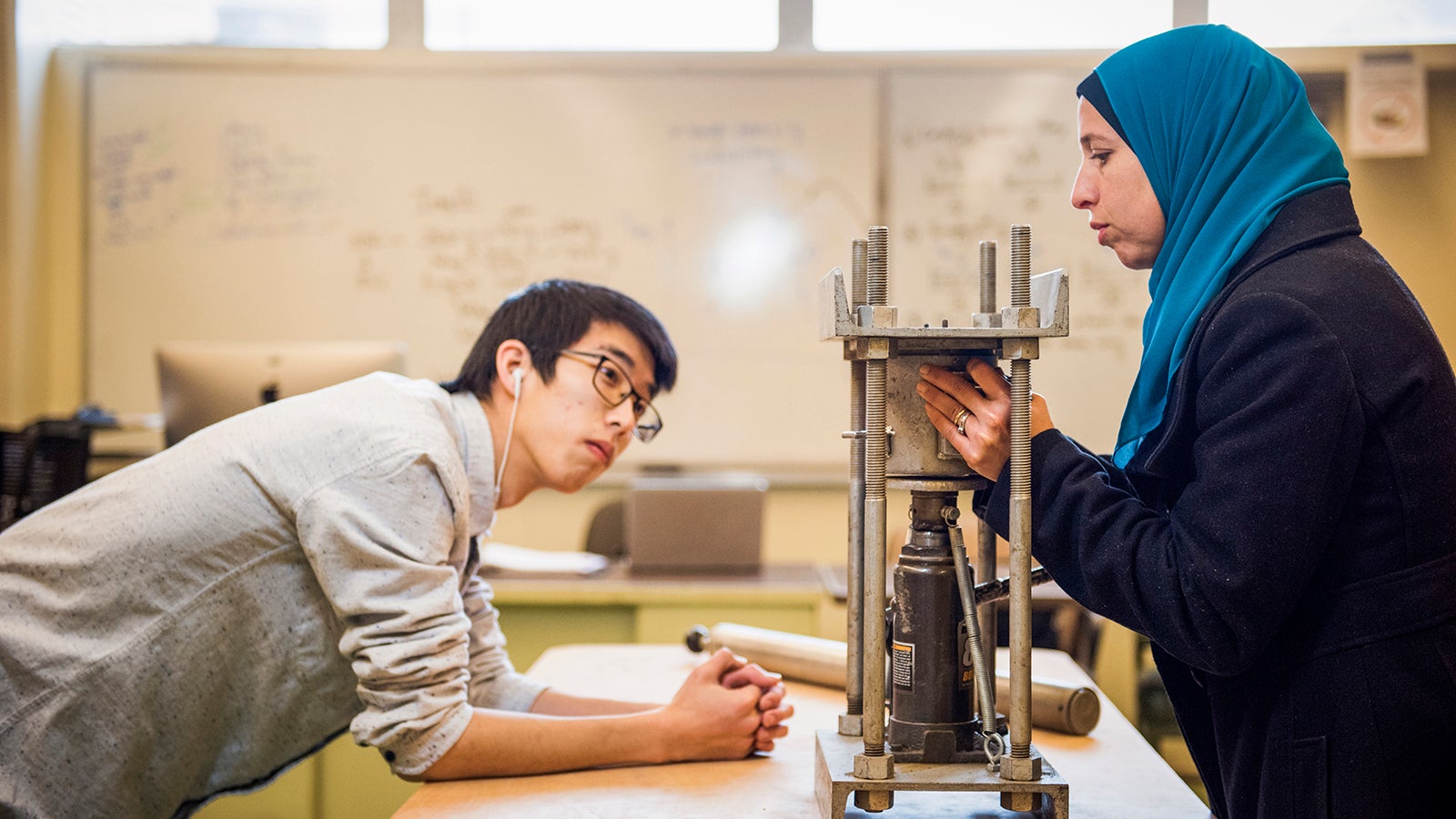 A degree in architectural engineering at Cal Poly prepares you to design the mechanical and structural systems of the building process.
The program emphasizes both the theoretical and practical with a focus on hands-on experiences. You will take several intensive design labs and design actual buildings, and have many opportunities to build models and test building components in the labs.
Along with your structural engineering courses, you will also be enrolled in several architecture and construction management courses. This cross-disciplinary interaction will give you a better insight and understanding into the other areas you will collaborate with in the workplace.
Learn by Doing
Beyond learning about the building process in the classroom, you will also learn how to design, construct and test a building's structure. This could include testing structures against earthquakes in our Seismic Lab or testing the strength of materials and forces in the High Bay Lab. Your practice with real-world experiences allows you to jump head-first into the workplace or graduate study.
Our Graduates
Graduates of the architectural engineering program are best prepared to be a practicing structural engineer or a project manager of construction in California and around the world.
Some of the major employers of our graduates include AKH Structural Engineers, Holder Construction, Strandberg Engineering and SDG Architects. Students wanting a master's degree can continue earning one at Cal Poly with the ARCE Blended Program. You can also go on to other grad schools such as UC Berkeley, USC, Columbia University, and the University of Washington.